For nearly a decade, CLX has been working with the world's biggest and smartest retailers to transform the front end of its largest stores.
The objective of our programs is to improve self-sufficiency while maintaining high levels of customer satisfaction.
Millions of shoppers around the world choose to use self-checkouts even when there is an option to use a serviced main lane.
We believe this trend will continue when there is investment in these five key areas:
Smart design
Be obsessed with the needs of the customer. We design all our hardware based on this whether that's a place for customers to put their handbag, a shelf for their eggs and bread (so they can pack them last) or great ergonomics so they don't have to overreach for bags, scanners, anything. We do our designs from hours of observations, data analysis and user testing.
Variation of designs
Provide options. We have compact units for a basket shop, bigger units for a trolley shop, checkouts with belts, checkouts without belts, checkouts with hand scanners, checkouts without hand scanners. We offer a combination of different options to suit customer needs and preferences, as well as the store layout and size.
Effective zoning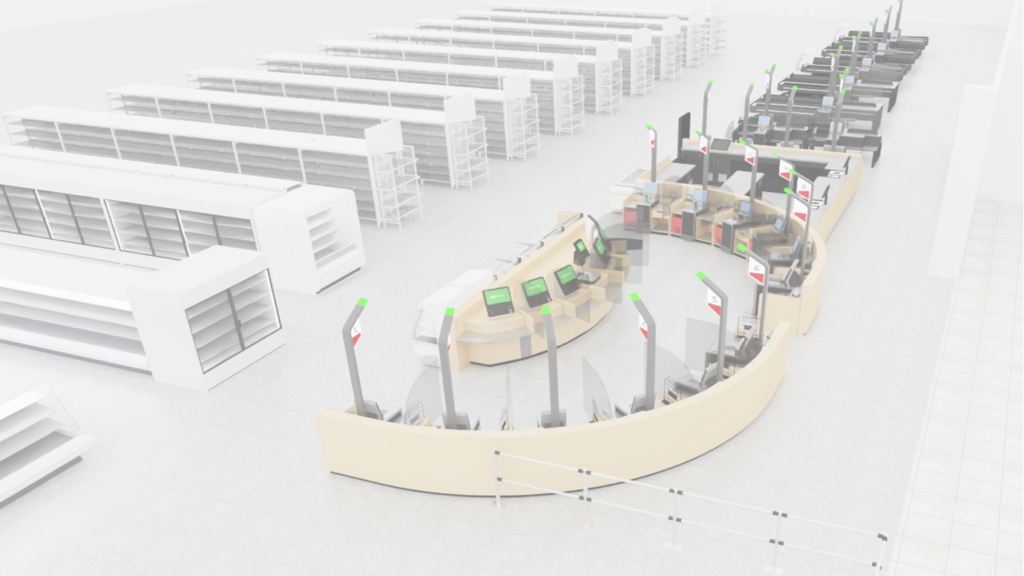 Effective zoning is a key to front end success.
Work on a layout for optimal efficiencies. Generally, in supermarkets, we see the more compact, basket checkouts at one end, belted checkouts for mid-size shop in the middle and serviced main lanes for full trolleys at the opposite end. We find this provides the most logic for customers and flexibility for store teams.
Human centred design change management
Engagement and training of team members is crucial, not only for upskilling but also to control any potential negative sentiments towards change including self-checkouts. Team member buy-in is the key to a positive customer experience.
Our human centred design change program addresses the technical, behavioural and emotional impact of the change. We aim to build motivation, knowledge, confidence and skill.
We start engagement activities months ahead of go live. We provide training before go live, and we stay on the ground, post go live, to coach and support team members and customers for up to one full week after deployment.
In supermarkets, customers usually do their shop once a week, so this approach covers the majority of regular customers coming into that shop.
The result is increased adoption, enabling full benefits to be realised as quickly as possible. With benefits maintained and sustained, this has allowed businesses to move quickly to scale, giving them confidence to also trial new technology and ideas.
Redefining service
Redefining service is a key to front end success.
In the past, service has meant "I will do it for you." Now, service is "what service do you need today?"
Whether the customer would like a chat, some help with packing or nothing at all (they just want to pay and go), team member communications and training focuses on understanding verbal and non-verbal cues, identifying and anticipating customer needs and adjusting the level of service.
The key to positive sentiments of self-service is to make it easy and provide outstanding customer service. As a bonus, this approach is the biggest deterrent to theft and contributes to loss program objectives too.
We are excited about our work in service transformation. We are continuing to roll out our programs which includes new hardware, new technology and exceptional customer service training.
Get in touch to find out how we can help you increase self-sufficiency while maintaining high levels of customer satisfaction.
Contact:
Sarah Campbell, Director, Middle East and Strategy and Partnerships, Global – sarah@clxprofessionals.com
Mark Packiyanathan, Director, Australia and Asia Pacific – mark@clxprofessionals.com
Dean Mengual, Director, UK and Europe – dean@clxprofessionals.com