The new Aldi Shop & Go store, image supplied by Aldi
This year Aldi began a pilot of its first contactless store in Greenwich, London. The new Aldi 'Shop & Go' is world class and is the latest of a succession of autonomous retail stores, like Tesco, in London and globally.
Using cameras supplied by AiFi each item picked up in store is logged by Aldi, allowing customers to walk out and receive a bill through the 'Aldi Shop & Go' app. The pilot also features a cashier-less store for customers buying alcohol and cigarettes, which uses Age Verification facial recognition technology provided by YOTI.
Last year, Amazon made headlines as it began rolling out technology for autonomous retail stores across the world. Shifts in customer behaviour driven by COVID-19 are meeting with strives forward in technological innovation at a fascinating time, to remove the biggest friction point of a customer journey.
Amazon coined it's technology as "just walk out" and describes it as an elevated retail experience. To take part, customers open a SmartShop app on their phones, which generates a QR code that they must use to gain access to the store. Like Aldi, customers can then enjoy their shopping experience as usual, picking items from the shelves before simply walking out.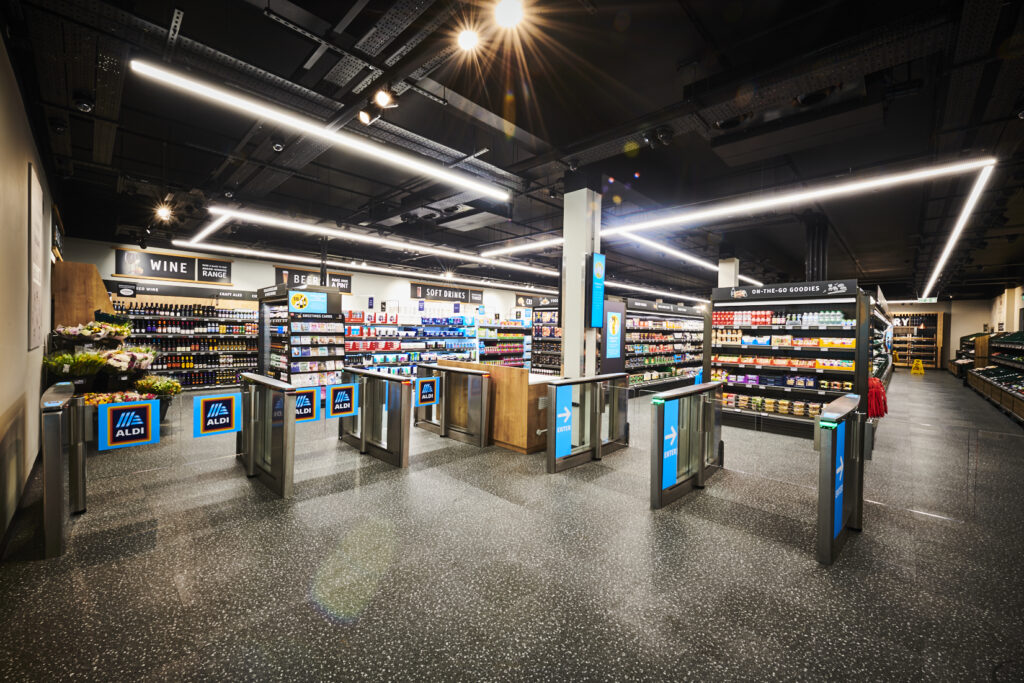 Aldi Shop & Go's entry and exit points instore, image supplied by Aldi
In 2019, British retailer Sainsburys launched the UK's very first till-free grocery store, which encouraged shoppers to pay with their smartphones and walk out of shops rather than through traditional checkouts.
At the time, customer feedback suggested that the use of mobiles was 'too clunky' and that in general they preferred a more familiar and traditional shopping experience. Last year using Amazon's technology Sainsbury's opened its very own 'SmartShop Pick & Go.' In Paris, Carrefour launched the store 'Carrefour Flash', where customers do their shopping straight into a bag before going to a terminal and tapping their card to pay.
So, what's changed? While it might seem that the psychological and cultural barriers that once stifled the uptake of digitalised shopping experiences have disappeared this is not necessarily the case. Autonomous shopping is not synonymous with the use of mobile phones but rather about utilising artificial intelligence, sensory capabilities and analytics to create frictionless experiences for customers.
More likely, the uptake of autonomous shopping ventures can be seen as stores become increasingly part of digital shopping journeys, with Amazon Fresh in the UK developing from digital roots. Further, a preference for contactless shopping experiences in line with global health recommendations is driving new customer preferences.
According to a recent Retail Shopping Survey, sponsored by Shekel Brainweigh Ltd Retail Innovation Division, 75 percent of household decision makers are interested in shopping at autonomous stores.
Currently there are more then 200 autonomous stores operating worldwide. As major players like Amazon and AiFi make these technologies more readily available to third-party retailers, it's not hard to forecast an autonomous shopping future in retail.
COVID-19 has transformed our industry, moving consumers into the future of retail in a short period of time. As experts in our sector, we pride ourselves on being specialists in customer shopping behaviour, their changing needs, and new shopping methods.
At CLX we adapt and adopt the newest technologies, taking simplicity at its core and implementing it across the customer journey in the most impactful way.
We are currently helping a number of retailers across the globe to implement their own autonomous shopping solutions.
Our experience is helping us to build tailored strategies around this new technology that ensures longevity, cost efficiency, customer and commercial benefits.
We are working to position our clients as leaders in this new and growing space.
Get in touch with us today to find out the ways we can prepare your business for the future.