On Monday, 5 December, Marks and Spencer (M&S) officially unveiled their first of its kind Foodhall checkout area as part of the launch of their store at London Colney. The transformative Tilling space provides innovative solutions that allow customers to shop how, where and when they want. M&S partnered with leading customer experience consultants, CLX Professionals to design and implement the full front-end at London Colney's reimagined Foodhall, with the mission of creating more space and checkout options for M&S customers.
Unlike any existing front end in the United Kingdom, London Colney, now boasts a new horseshoe shaped self-checkout tilling layout that provides a feeling of space and freedom to shop using redesigned checkouts and supporting technology. Additional solutions allow customers with large trolleys to shop at their own speed while still transacting in a familiar way.
The CLX team came together in collaboration with M&S in late July and began reimagining the customer experience. This involved looking at global standards and existing solutions, customer and colleague friction points and how to create better ergonomics, tilling options and space. The entire project was pulled together in 12 weeks from design through to implementation and training of the Colleagues.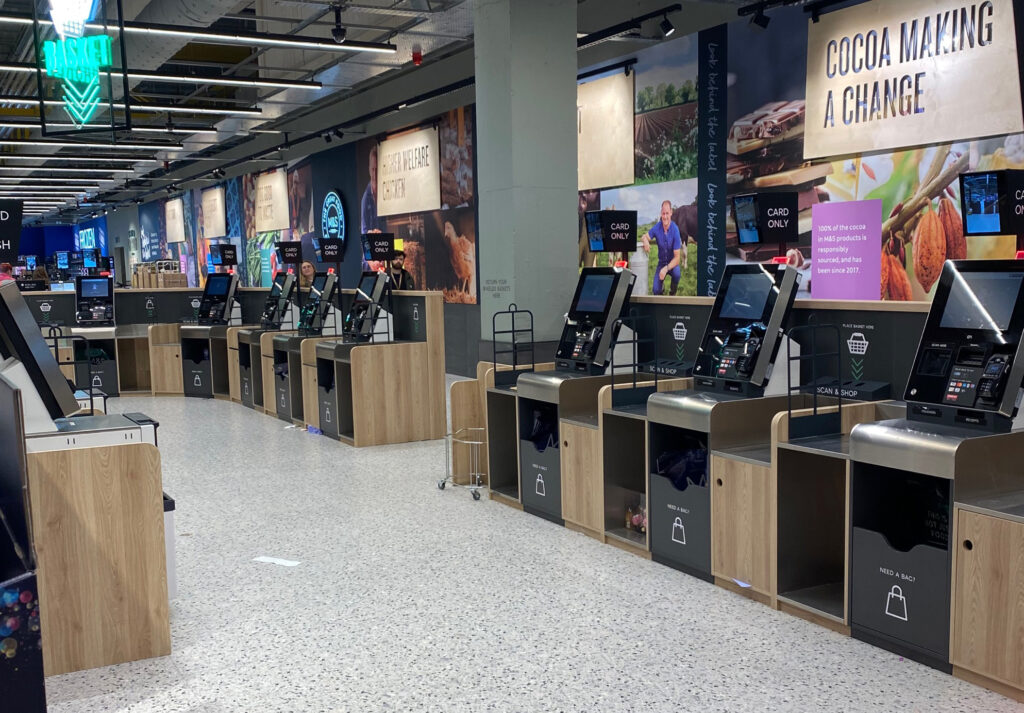 The new horseshoe layout and checkouts for customers doing smaller shops
The horseshoe shaped self-checkout area is a redesigned space for those doing basket shops in store. Notably, customers can see which checkouts are available from two entry points and then can easily access them in this wide-open section.  CLX's CEO and Founder Tony Chapman explains it as a particularly streamlined and ergonomic solution that enables customers to flow through the store while reducing any sense of being cramped. 
"The layout of the new self-checkout area gives a significant amount of space back to customers. Alongside the supporting technology it works to keep the area calm while reducing queues," said Tony.
Complementing the new basket shop area are the trolley self-service checkouts, an additional option for customers to use when completing a larger shop. The checkouts allow customers to utilise a spacious packing bench and bagging area. An additional fragile shelf supports better packing as customers can now separate specific items like bread and eggs until last. This solution combines a traditional shopping experience with a self-checkout solution, that has been designed to ensure customers can move at their own pace, park their trolleys and enjoy ample space.
"The most important part of the new checkout experience is the people and how easily they can now interact. Colleagues need to feel equipped to help customers across the front end and customers need to feel supported in shopping whichever way they want," said Tony.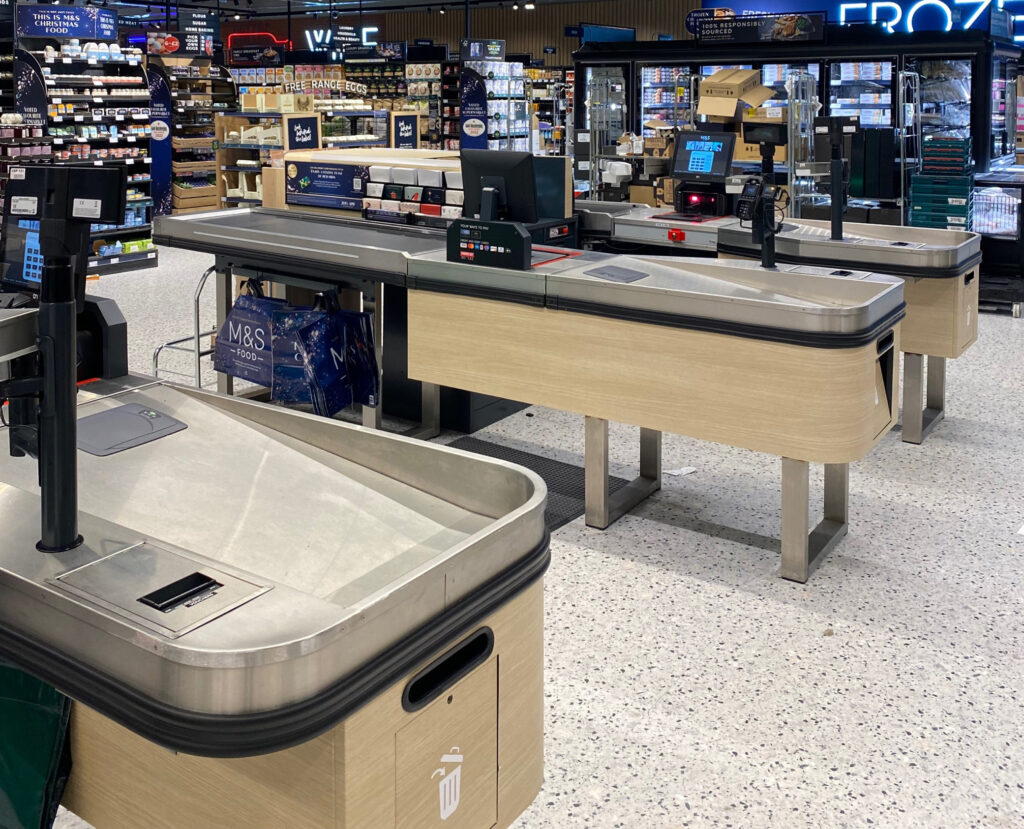 The new main lanes, meaning customers still have the choice to checkout in traditional fashion
The Human Centred change and training program was specifically designed and delivered by CLX to build behavioural capability and support Colleagues in delivering passionate service. In keeping with the divergent nature of the new solution, the training was all encompassing ensuring everybody felt looked after. The dedicated Customer Service workshops equipped each colleague with everything from understanding the strategy and their important role within it, to the principles of great service and the tools they would need to ensure the best customer experience.
Positive customer feedback suggests that customers are now experiencing less friction on their journey through the front-end, becoming further centred in an improved shopping experience.
"We are thrilled about the successful launch of the new checkout areas at M&S London Conley's Foodhall and very much excited for our partnership with Marks and Spencer to continue as we work together to design and deliver more service transformation strategies, across more stores, next year," said Tony.